Egyptians Travel from Vegas to LA for Rally
by Michael Jack Lawlor
|
6 February 2011
|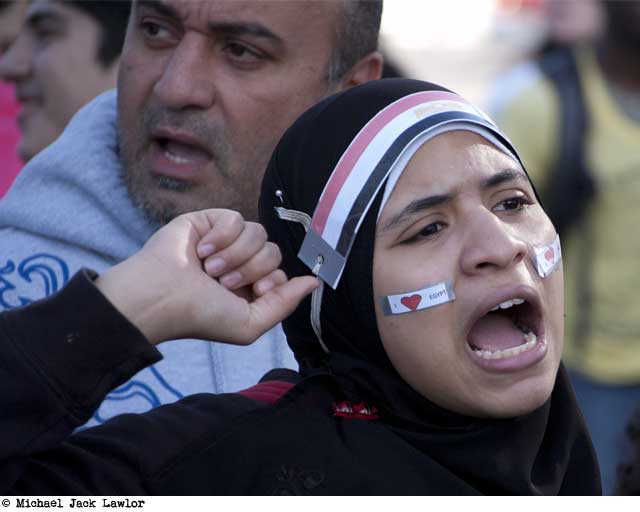 On Saturday February 5, 2011 dozens of Egyptian families living in Las Vegas traveled by bus to Los Angeles to attend a public demonstration and show their support for family and friends in Egypt.
"All of my family are still in Egypt with ther children and spouses. I call them daily," said Dr Osama Haikal, a Las Vegas physician who made the journey.
Shortly after the buses arrived, the Muslim travelers formed two prayer lines on the lawn beside the Federal Building on Wilshire Blvd.
"Muslims pray five times a day," said Dr Haikal. "Because we are traveling our religion allows us to combine the afternoon prayer with the noon prayer. This gives us plenty of time to protest and ask for freedom for our brothers and sisters in Egypt."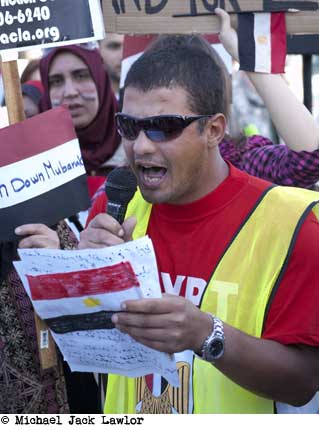 Amplified by mics and megaphones, organizers shouted rhymes of dissent that were echoed loudly by the enthusiastic crowd:
"From the Nile to the sea
The Egyptian people want to be free"
Blase Bonpane, director of the Office of the Americas and host of World Focus on LA's KPFK radio station, spoke to the protestors.
"The people in Tahrir Square are speaking, not only for each other, but for the entire world, and we are very proud of them. This is the moment that the world has been waiting for. To see the people speak up and say 'we do not need a dictatorship'."
The consensus amoung Egyptian professionals living and working in the U.S. is that Mubarak must leave office immediately.
"Mubarak has to step down," said Mona Hila, an Egyptian pharmacist who lives with her husband and children in Las Vegas. "The people are not leaving until he does."
Najid Moori, originally from Afghanistan, now a U.S citizen living in Las Vegas, traveled on the bus to LA with the Egyptians.
"It's one of the best travel I ever had," he said. "Different people, different culture. I brought my family. The human being have a right to live in this world, have the right to live with freedom and dignity. That's why we came here. We don't want dictatorship like Hosni Mubarak."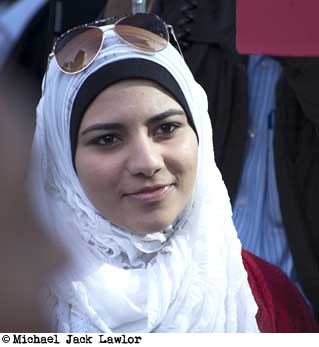 The peaceful demonstration in Los Angeles was a world away from day twelve of the uprising in Egypt, which has become increasingly violent and uncertain.
"People are getting mixed up between the peaceful civilians who are making their point and what's happening with the government," said Mona Hila. "The people have always been peaceful. They never wanted to do something that was bullets or guns."
The loss of the Internet, killed by the government, was stressful for Egyptians in Las Vegas who use Facebook, Twitter and e-mail to communicate with family and friends.
"I'm a Facebook person," said Mona Hila. "It was very crazy when it was down. Thank God it's back. I can make sure my parents in Alexandria are good and my cousins are fine."
"I call on the land line," said Dr Haikal. "I don't know if the cellphones are back or not."
The possibility that the Egyptian government will use violence to crush dissent is a constant concern amoung Egyptians living in the U.S..
"You see thugs, hired thugs, for money, riding on the horsebacks, riding camels and they beat," said Dr Haikal.
"You saw it on TV, I am sure. Come in on the horse and start beating people, and Molotov cocktails, and machetes and cut ears and do this kind of things. This is the intimidation that allowed Mubarak to claim legitimacy to his reign."
"As a medical student I used to protest for the same rights that our brothers and sisters are protesting for now," said Dr Haikal, who studied medicine in Cairo in the 70's.
"My major concern really is that the Mubarak regime will resort to massacre like what happened in Tianamen square. I pray that he has a little bit of common sense and step down."