The Serenity of Igor Kenk
by Michael Jack Lawlor
|
20 May 2010
|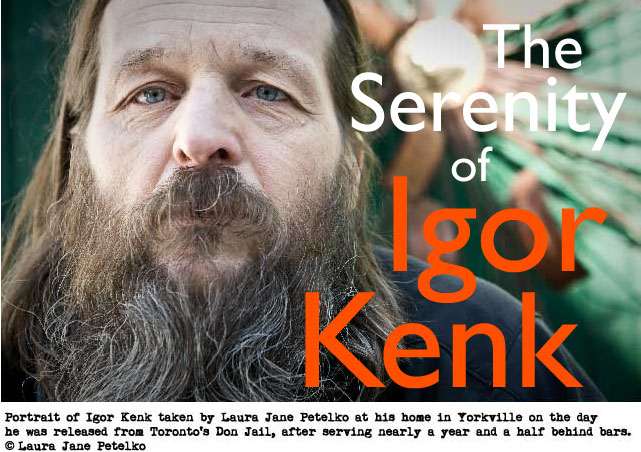 Dear Reader,
Igor Kenk was busted on bike theft and drug charges in Toronto, Canada a few years ago. His story has an uncanny ability to stir up a lot of stuff in the culture.
My interest in the story began after I read that he played classical music in his bike shop. I googled the name "Gubaidulina," read the Wikipedia article about her, and cycled to a record store here in Los Angeles to buy a CD.
There is much more to Igor's story than crime and music. Kenk: A Graphic Portrait takes a stab at the details by reinventing Igor as comic book anti-hero, foiled in his quest to capitalize on the decline and fall of North America.
Kenk explores ideas about bicycles, debt and consumerism. The book made me think about the tricky business of recycling images and ideas.

Igor Kenk ran a notorious bike shop on Queen St West in Toronto called the Bicycle Clinic. People hung around the shop to watch him work and hear him talk about the decline and fall of North America.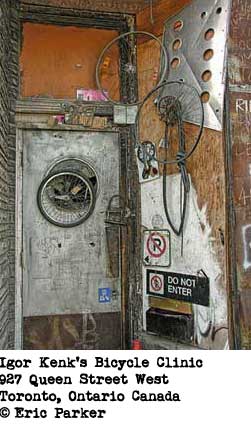 Igor was known around town as "the stolen bike guy." The police encouraged people to check his shop when a bike disappeared. He had a reputation for bringing stolen bikes and their owners back together. For a price.
Igor held a second hand license which meant that ownership of a used bike transferred to him fifteen days after he took possession. All he had to do was jot down the name of the seller and the serial number of the bike.
He was arrested in the summer of 2008 and charged with 58 counts of bike theft and drug possession. Police discovered that he was hoarding several thousand bicycles in rented garages around town. Headlines around the world proclaimed Igor to be "the world's most prolific bicycle thief."
In December 2009, feeling the pressure of Ontario's powerful Civil Remedies Act – which enables the government to sell off property perceived to be associated with crime – Igor plead guilty to 10 counts of bicycle theft and 6 drug charges.
Igor lost the Bicycle Clinic property and his trucks in the deal. He served 30 months in jail. Hundreds of bikes were returned to owners, others were given to kids.

Igor has been portrayed in the mainstream media and on blogs as a charismatic street philosopher who played classical music in his shop. He attracted an impressive cross section of people to his enterprise. Cyclists swung by for cheap bikes, parts and repairs. Street people gravitated to the sidewalk scene. Patients from a nearby mental hospital hung around.  Beautiful women elected to stay and watch him fix their bikes.
The music of Sophia Gubaidulina, an experimental Russian pianist, was playing when Jeanne Chung, now Igor's partner, brought her bike into his shop for repair one summer evening. Chung, a concert pianist and Julliard graduate, recognized the composer and became intrigued by the man working on her bike.
In August 2008, National Post columnist Iris Benaroia, wrote about Igor's commanding street presence under the headline The Strange Allure of the Bike Guy: Queen West Shop Was My Kind of Place.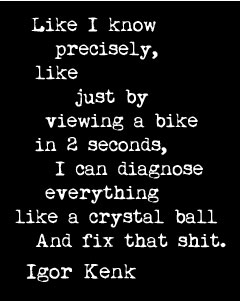 "He had a powerful presence. Like most scene-stealers whose magnetism arises from their character, he wasn't much to look at: stringy hair, saggy money belt, a mechanic's dirty nails.
But he had excellent blue eyes, was energetic, very male and thus attractive. When he spoke, his prophetic gaze never wavered; his bewitching eyes felt as though they could cleave into my mind. He would be difficult to lie to, and gifted at manipulating others. I could just tell. He reminded me of the deceased white supremacist Wolfgang Droege whom I had more than one long conversation with. (I'm wholeheartedly not suggesting Kenk shared Droege's foul ideology, just pointing out the intensity of their presences.)"
The Toronto Star reported that the police were charmed by Igor when they arrested him. "You would love talking to him," says police Const. Aaron Dennis, who monitored Kenk for years before helping arrest him last summer and again last Sunday. "Honestly, he's a very interesting guy."
Not everyone was charmed. Many people in the cycling community resented Igor's business practices and were frustrated over the years by police indifference.
"He's easily the most hated man in Toronto," said filmmaker Alex Jansen, in a New York Times article published after the arrest.
Storytellers could not resist the mix of Igor's charm and menace. Details of his past emerged in corporate media reports, on blogs, and in documentaries.
Before he moved to Canada, Igor lived behind the Iron Curtain in Yugoslavia, now Slovenia. He trained as a martial artist and worked as a police officer. There were rumours he might be KGB.
He warned people who came into his orbit on Queen St West that global economic collapse was on the way. He maintained that people living in North American had grown weak from consumerism and credit card debt.
Igor pointed to a fossil fuel apocalypse on the horizon that would make cars obsolete and bicycles essential. In a post-apocalyptic world Igor would emerge as an urban bike lord. His patch of land on Queen St West became known as Planet Igor.

Igor fixed bikes and negotiated deals deep into the night on the sidewalk in front of his shop. As gentrification transformed the neighborhood, affluent homeowners began to resent the blight of his odd hours, chalk signs, bicycle parts, and entourage.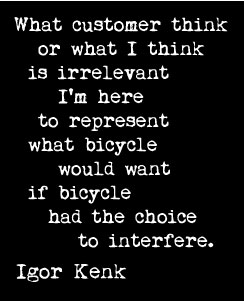 Igor built ideas into his service. A bike was not just a bike, it was a solution to environmental pollution, over consumption and economic collapse. He did not just recycle bikes and parts, he tried to teach folks who would listen, how to live.
Igor created one of the most effective identity systems in the city. He turned the bicycle shop experience inside out by recycling used bikes and parts and turning the street into a mechanics studio. His powerful do-it-yourself brand unsettled the landed gentry.
Even so, Igor's surreal identity system evolved organically in relation to the community he served and exploited. Bicycle wheels floated above the storefront. Tire tubes hung in the entrance way. Hand-made signs educated the consumer.
"To the potential patrons. Since May 1992 this anarchic bicycle cave has served thousands of often happy cyclists. Bike and repairs are priced below anybody's attempts. You will get the most for your change if you check the market and describe what are you hoping for."

Kenk: A Graphic Portrait, published by Pop Sandbox, takes the mytholgy of Igor Kenk to the next level. The book shows Igor growing up behind the Iron Curtain in the 60's and 70's, landing in Toronto in the 80's and working the Planet Igor mojo in the 90's and 00's. Kenk turns Igor into a comic book anti-hero foiled in his quest to transcend the patterns of consumption that govern North America.
Igor's voice dominates the book. Filmmakers Alex Jansen and Jason Gilmore shot extensive video footage of Igor in the months leading up to his arrest. Journalist Richard Poplak, serving as Igor's amanuensis, transposed Igor's speech from the footage to the page. "It's 100 per cent his words." said Poplak in Toronto's Now magazine.
We watch Igor work on bikes, haul junk to the scrapyard, talk about the "old communist shithole" and share ideas about debt and consumerism.
Kenk features original reporting – recycled below – about Igor's life behind the Iron Curtain.

We learn that Igor was a math prodigy as a child. At nine he had a "meltdown" and his math suffered. He  shifted his attention to chess, which he mastered. His chess teacher taught him that "all moves are wrong. You must choose move that is least wrong."
Igor recalls that he was brainwashed in the police academy but learned to "knock the shit" in judo. We discover that he values emotional intelligence over IQ.
A recurring theme in the book is Monkey Factor, an existential characteristic preserved or depleted according to the behaviour of individuals and societies. Igor's Monkey Factor is rooted in the biology of social Darwinism but enhanced to include a sense of karma and personal responsibility.
"The goal is maintaining Monkey Factor. That's the final goal. Stay alive and keep smiling. According to my calculus you can only be happy if you are struggling. However, struggling because YOU want to. Not because anybody else wants you to,"  he says.
North America is doomed when it comes to Monkey Factor. "Game is over. We're all a bunch of depressed losers. Toothless. Soft and plush. Monkey factor is goner. Non-existent."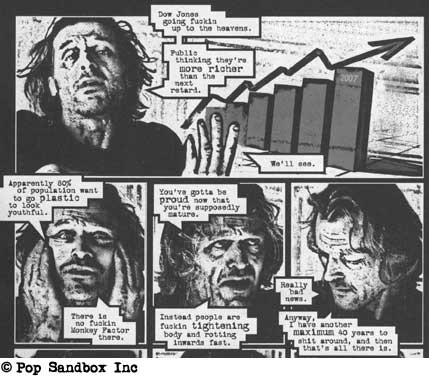 On Planet Igor personal debt is a sign of low Monkey Factor. People that consume more than they produce lack Monkey Factor. There is no Monkey Factor in cosmetic surgery. Igor maintains that not getting arrested each day is "guarateed Monkey Factor." The stuff in his basement is "seriously high Monkey Factor."
"I'm just a pro monkey," he says.
At times Nick Marinkovich's illustrations are stunning. An image of Trinity Bellwoods Park in Toronto, light pouring through the trees onto an empty path, is one of the few places in the book where you can imagine riding a bike. A full page illustration of Igor wearing his iconic IM Tired t-shirt with a tangle of bikes rising in the background illustrates the anti-hero's gnarly spirit.
"When I was in Slovenia researching Kenk's background, I came across a style of underground art there called FV, which has a gorgeously grizzled punk DIY aesthetic. Thus, the photocopier became the medium through which my illustrator, Nick Marinkovich, would doctor the images," said Richard Poplak, in an interview with Torontoist.com.
The book concludes with a powerful illustration of Igor based on a photographic portrait taken by Laura Jane Petelko at Igor's home in Yorkville on the day he was released from Toronto's Don Jail, after serving nearly a year and a half behind bars.

Laura Jane Petelko is a Toronto-based wedding and portrait photographer. She has documented over five hundred weddings and her work has appeared in galleries across Canada. She was hired by Pop Sandbox to photograph Igor at his home in Yorkville on the day of his release from prison.
"When I was called out to do the job I wasn't told what I was doing," said Petelko during a telephone interview. "I was given top secret instructions because he was getting out of jail and I was to photograph him as soon as he got out."
"When I got to Igor's house the filmmakers told me that Igor doesn't sit still or maintain eye contact that he is very animated and he doesn't listen and you won't be able to get a portrait. The experience I had was just exactly the opposite," said Petelko.
"I found some great light. He was very quiet and serene and intense so I got dozens of these shots which were apparently impossible to get out of him. "
"I was given the impression that he was a really, really difficult guy, that you couldn't get a picture of him. But he had this very serene energy going."

The illustration of Igor that appears at the end of Kenk is a significantly modified version of the photograph Laura Jane Petelko took on the day Igor was released from jail. The illustration is prefaced with the following caption: "On March 5, 2010, after nearly 15 months behind bars, Igor Kenk walked from the Don Jail a free man."
A comparison of the original photograph (below left) with  the illustration (below right) demonstrates the power of photo manipulation to distort historical events.
Laura Jane's original photograph (below left) documents Igor's demeanor on the day he was released from prison. Her portrait shows a complex mixture of vulnerability, emotion and intelligence.
Nick Marinkovich's illustration (below right) conform's to the style of the comic book – and an undeclared editorial agenda – at the expense of the integrity of the photographic moment. Nick has doctored the photo to darken Igor's features and heighten contrast. Blackened are the eyes, facial lines, pores and mouth. Grey has been added to the beard. The image has been scratched and cut. The eyes have an unholy glow. The total effect is gnarly, menacing and sinister, the opposite of Laura Jane's original photograph.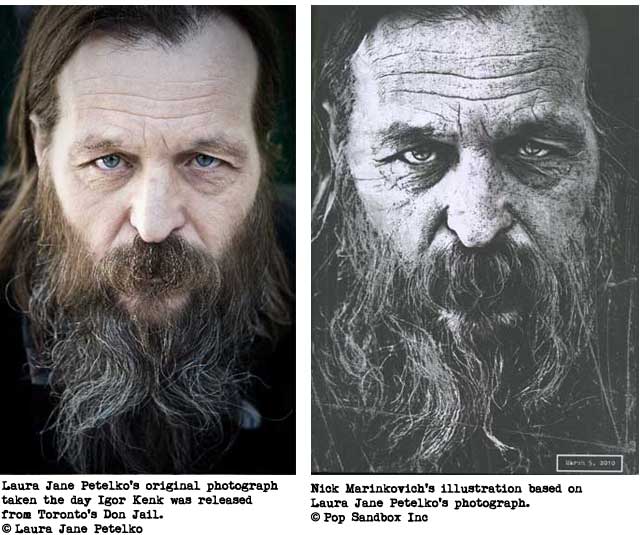 Although the illustration provides a dramatic punch at the end of the comic book, the distortion of the historical event becomes problematic when it is presented as journalism.
"This is an in-depth, very serious journalistic profile — much like the sort you see in expensive magazines — except with lots and lots and lots of pictures," said Richard Poplak, in an article published on his blog entitled Working the Kenks Out: Redux.
Richard Poplak has been marketing the book as journalism in interviews published by the Globe and Mail, National Post, Now magazine, and CBC television. Nick Marinkovich's illustration appeared on the cover of Toronto's Now magazine the week of the book launch.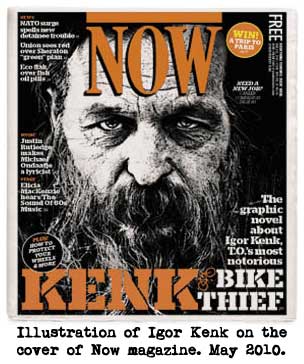 In North America and Europe, tampering with photographs can put a serious dent in a journalist's career. The National Press Photographers Association, in its code of ethics, prohibits the practice: "Do not manipulate images or add or alter sound in any way that can mislead viewers or misrepresent subjects." The Canadian Association of Journalists similarly forbids photo manipulation in its code, and advises journalists to "not alter images so that they mislead the public."
Social and political concerns arise when people are made to appear sinister and malevolent in the media by darkening their features. The issue is compounded when the person who is stereotyped is an immigrant who speaks English as a second language.
The behind-the-Iron-Curtain punk style of Kenk: A Graphic Portrait looks cool as a comic book, but the editorial decision to demonize Igor on the day of his release from prison revs up the Igor as mirror-of-society engine.
Igor's high profile arrest drew attention to the complicity of cyclists in the business of recycling stolen bikes and parts. Kenk: A Graphic Portrait draws attention to the capacity for journalists and publishers to recycle stereotypes and sell them back to the general public as journalism.
A closer look at the illustration shows that the letters THIEF appear to have been burned and etched into Igor's beard, a classic example of subliminal messaging, demonization and branding.
The image marked number 1 below is a detail from the lower third of Laura Jane Petelko's original photograph. In number 2 below, a detail from the lower third of Nick Marinkovich's illustration, the letters THIEF can be seen. In number 3 below, the letters have been highlighted to show what's going on.
Journalists distort newsworthy events and raise the opacity level on truth when photo manipulation and subliminal messaging techniques are used to tell stories. Seeding Igor's beard with secret messages makes me question the journalistic integrity of the book.
Fortunately, there is a wonderful tradition of radical transparency in comics reportage. Artists like Josh Nuefeld in A.D.: New Orleans After the Deluge and Joe Sacco in Footnotes in Gaza make themselves visible in the stories they are telling.
In Footnotes in Gaza, for example, you are with Joe Sacco in his apartment in Rafah as he drinks coffee and smokes Cleopatra cigarettes with Abed, his Palestinian guide. You watch them build a huge chart that cross references the testimony of eye witnesses with historical events. There is a layer of transparency in the comic book that encourages readers to think about how and why information is being communicated.

Igor made a surprise appearance in Toronto at the launch party for Kenk. He wore an orange IM Tired t-shirt, like the one he wears in the book. "Igor Kenk" the comic book anti-hero was back in action, blurring the distinction between comics, journalism and reality.
He stepped off the page, so to speak, into a room of people gathered to celebrate his recycled words and images.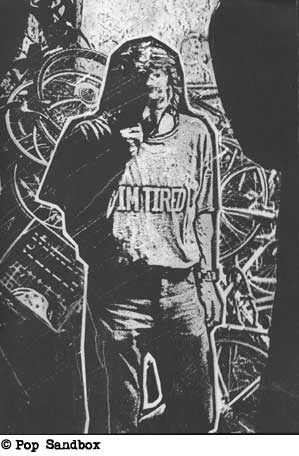 Books with Igor's image on the cover were stacked on tables. Stills of Igor from video footage hung in frames on the walls.
Simply by showing up in his IM Tired t-shirt, Igor reclaimed his recycled thoughts.
"The bar was full of excited whispers – 'Igor's here!' – and before you knew it, Kenk was raised to celebrity status, getting his hand shaken at every turn. By midnight he was leading the dance floor, with the circle around him growing ever bigger, while gyrating young ladies fought over his attention," said MV in the comments section of Dude Where's My Bike on the Now magazine website.
People familiar with Igor's alternative ideas about sustainable urban transportation dropped by to see how he was doing.
"Igor views bicycles as the perfect machine," said Toronto cyclist and writer Jo Fergus, in an email message. "They can be used and maintained indefinitely, with minimal impact on the environment. He believes that the best bikes were built before 1995 and that those bikes could be maintained indefinitely. However to develop and share the knowledge required to repair, repurpose, and maintain those existing bikes, would be disadvantageous to the bike retailers and manufacturers who prefer to see newer bikes sold, rather than older parts being machined and maintained."
Other people were not comfortable with Igor's presence at the party. "It was weird. It was wrong. Was he being valorized? I felt unsettled that he was there," said Eric Kamphof, in Now magazine.
Readers asked Igor to sign copies of the book, innocently endowing him with the enviable status of author at a publication party. Afterall, Hermes, the cunning god of border crossings, is also the patron of writers and thieves.
"We almost came to blows," said Richard Poplak, on the Now magazine website.
Ironically, Igor's thoughts about bicycles reach a wider audience now that he is off the street.
"If you have brain, you will open yourself to my methods. To start with, you will have a good bicycle to ride. For no money," writes Igor in Kenk. "The bicycles are an idea. A tool."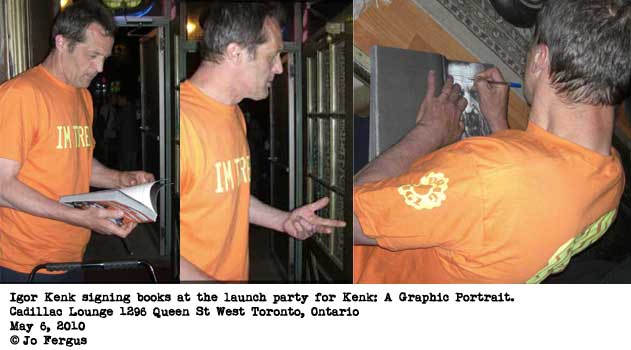 I lived in Toronto in the 90's and rode my bicycle everywhere. In 1991 my bicycle was stolen on College St. At the time, I was studying at the University of Toronto and my bike was my primary means of transportation. Without a ride, my studies were at risk. I had to get a new bike fast. I was so busy I didn't have time to get angry about the theft.
I bought an Iron Horse X2100 at a bike shop on Bloor St in the Annex. I'm still riding that bike twenty years later. I work on it myself at place called the Bicycle Kitchen, a co-op in East Hollywood. Sometimes I take it across the street to a shop called Orange 20.
On weekends back in the 90's, I worked at the Book Cellar on Yorkville Ave. The redbrick storefront had a large round window that served as a portal to the street outside. One evening a van stopped in front of the store and two guys armed with crowbars jumped out. Within seconds they broke the lock on a bike fastened to a tree, threw it in the van and drove away.

Another time I leaned my bike against the bookstore's brick wall and went inside for a moment. Within seconds I glimpsed a guy riding away on my bicycle. I ran after him, knocked him down and reclaimed my bike.
Over the years at the Book Cellar I encountered book thieves armed with Exacto knives and iron bars. These guys were volatile and unpredictable. They stole new books and sold them to second hand stores for cash.
One evening at Carleton and Parliment I watched a deeply troubled couple take turns pounding a bicycle lock with a hammer.  Eventually the lock broke and they wheeled the bike away. As they walked along Carlton St the man pointed to a table that someone had dumped upside down on the sidewalk. "Your legs are as skinny as those table legs," he said. "Then go fuck the table," she replied.



My copy of the book fell apart after a few days. The complimentary Monkey Factor cut-out page at the end of Chapter 8 is hanging on by a thread. This thing cost $27.95 Canadian. Caveat emptor.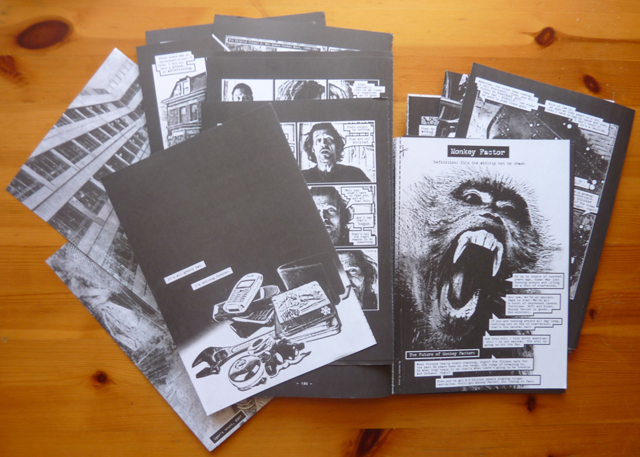 Visit the Kenk: A Graphic Portrait website.
Watch the Pop Sandbox video treatment of Igor.
Get a copy of Kenk: A Graphic Portrait from Ben McNally Books in Toronto.
See more of Laura Jane Patelko's photography on her website and other images from her photo shoot with Igor.
Watch CBC coverage of Igor and the book launch party.
Read Dude Where's My Bike, the article in Now magazine and MV's comments.
Read Jo Fergus's account of Igor's appearance at the launch party: http://thumbshift.wordpress.com/2010/05/10/launch/. You can read other reports by Jo about Igor at http://KenksKarma.com. Jo's writing about urban transportation and cycling can be found at http://ThumbShift.wordpress.com.
Read Kenk Crashes the Party on the Now magazine website.
Read Herb's account of Igor's appearance at the launch.
Check out photos of people rifling through Igor's stuff on Queen St. in Toronto.
Read The Legal Meaning of Private Property Part 1, Pulat Yunusov's essay about the reach of the Civil Remedies Act.
Read The Strange Allure of the Bike Guy: Queen West Shop Was My Kind of Place  by Iris Benaroia on the  Centre For Local Research into Public Space website. To launch the PDF, scroll down to the August 2, 2008 item under "News articles."
Read Richard Poplak: Igor Kenk, fumetti and experimental journalism.