An Evening With Joe Sacco in Los Angeles
by Michael Jack Lawlor
|
22 January 2010
|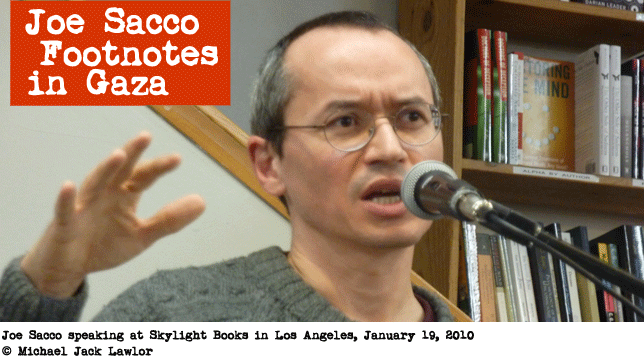 On January 19, 2010 Joe Sacco spoke to a standing room only crowd at Skylight Books in Los Angeles about "Footnotes in Gaza", a journalistic report in comic book form that covers two under-reported atrocities committed by Israeli soldiers against Palestinian civilians on the Gaza Strip in 1956.
Sacco, a cartoonist operating as a journalist, has created an illustrated history with many layers. On one layer Sacco presents a brief history of the Gaza Strip and the historical reality of the atrocities in the refugee camps at Khan Younis and Rafah. "The Israelis claim the Palestinians were resisting but I found no evidence of that," he said.
Sacco's reportage draws on hundreds of interviews with Palestinians as well as photographs from the United Nations Relief and Works Agency (UNRWA) archives in Gaza City.
Between November 2002 and March 2003 Sacco interviewed older Palestinian men about the atrocities. These interviews are the journalistic basis of the book's memory layer. Sacco's panel by panel reconstruction of Palestinian memory invests the objective reality of the killings with emotional and psychological truth.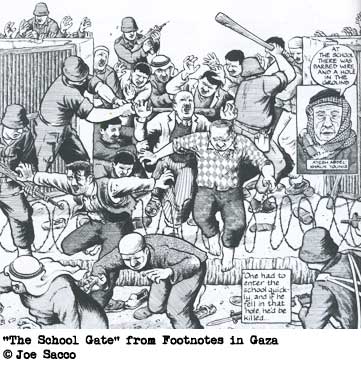 Using eyewitness testimony he reports in graphic detail how civilians were shot in their homes, against public walls, and on the street. Older Palestinians sometimes confuse wars and events and many are evasive because they fear retribution. A portrait of a civilian society traumatized by war slowly emerges as memories of death and destruction are voiced.
Another narrative layer of the book shows Sacco gathering material for the book he is going to write. Sacco belongs to the autobiographical tradition in American comics and he is a character in the transparent story he his telling. Readers watch him party with journalists in Jerusalem and press Palestinian men in refugee camps for information about the past. Sacco includes the dynamic process of interviewing Palestinians and sifting through their narratives as part of the illustrated story.
Sacco immersed himself in the rhythms of Gaza. We watch him rent an apartment in the Rafah refugee camp, eat glazed chicken in Sea Street restaurants, wait for days at check points and throw himself against a wall to avoid Israeli gunfire.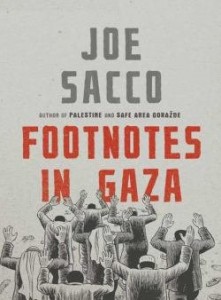 We are with him in his apartment in Rafah as he drinks coffee and smokes Cleopatra cigarettes with Abed, his Palestinian guide. We watch them build a huge chart that cross references the testimony of eye witnesses with historical events.
Sacco's treatment of contemporary Gaza adds another layer to the story. Sacco reports that the refugee camps are often indistinguishable from the towns they border. The commercial bustle of Sea Street in Rafah is contrasted with the destruction of Palestinian homes by Israeli bulldozers.
With the lights dimmed at Skylight books, Sacco stood beside projected panels from his book and explained that the atrocities in Gaza are just a footnote to the history of the Suez Canal Crisis and Egypt's 1956 war against the combined forces of Israel, Britain, and France.
Sacco read part of a speech made by Israeli Chief of Staff Moshe Dayan in 1956. The speech, which also forms a scene in the book, contains an expression of empathy toward the Palestinian people:
"Let us not today cast blame on the murderers. What can we say against their terrible hatred of us? For eight years now they have sat in the refugee camps of Gaza, and have watched how, before their very eyes, we have turned their lands and villages, where they and their forefathers previously dwelled, into our home."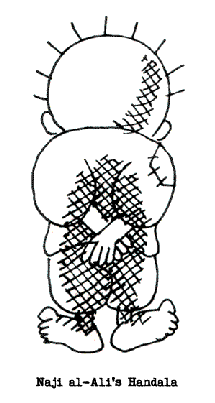 During a vigorous question and answer period a woman asked Sacco how the Palestinian people responded to his style of comic book journalism. Sacco explained that political cartoons have an important place in the culture of the Palestinian people and he referred the audience to Naji al-Ali, a prolific Palestinian cartoonist who was assassinated in London in the summer of 1987.
Naji al-Ali is the creator of Handala, a ten year old boy in rags who stands barefoot with his back to the viewer. Handala is powerful symbol of Palestinian identity and independence.
Sacco, who wrote the introduction to "A Child in Palestine: The Cartoons of Naji al-Ali," portrays himself as having earned the respect of his Palestinian friends.
"Joe we like you very much. We don't want to lose you. The bullets don't distinguish between us and foreigners," a friend cautions one night as Israeli bullets snap in air above them.
Sacco brings marginalized people to life in his book and treats them with respect as he tells their story.
With "Footnotes in Gaza" Joe Sacco has transformed the comic book into a compelling journalistic platform that holds those with power accountable for their actions and gives a voice to people who have none.

Learn more about Joe Sacco at Fantagraphics Books.
Listen to a BBC interview with Joe Sacco about "Footnotes to Gaza".
Visit Skylight Books.
Read about Naji al-Ali on Wikipedia.