The Photography of Autumn de Wilde
by Michael Jack Lawlor
|
11 April 2011
|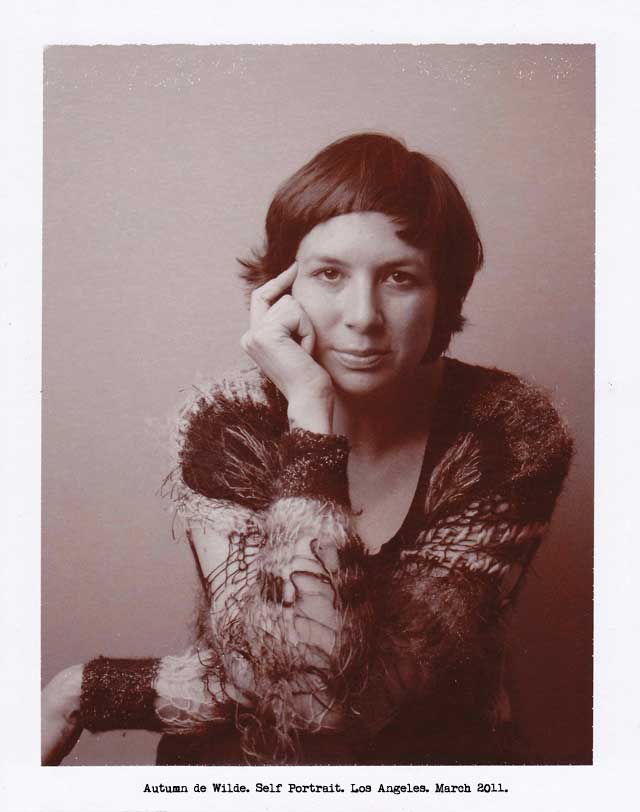 Autumn de Wilde is an American photographer who has worked with artists such as Beck, The White Stripes and Kate & Laura Mulleavy. She immerses herself in the lives of her subjects and has produced an innovative body of work that demands attention.
Autumn has the uncanny ability to channel the history of photography in refreshing ways. A recent self portrait, shown above, mixes the warmth of a photographic print – uncommon in our digital age – with the presence of a contemporary woman.
I met up with Autumn at Intelligensia on Sunset Blvd in Los Angeles to discuss her work. Images from Death Cab for Cutie, her recent book, hung in black frames on the cafe's red brick walls.
Over coffee, we talked about her approach to photography, the impermanence of Los Angeles, and the uncanny lushness of Nova Scotia in the summertime.

Autumn de Wilde is often described in the press as a rock photographer who has worked with Beck and The White Stripes. Yet rock photography is just one aspect of her work. Autumn channels different styles from the history of photography and refreshes them in the context of music, movies, fashion, and advertising. She also directs music videos and advertising campaigns.
"I started out as a rock photographer but I have a fascination with artists at work," said Autumn. "I started looking around to prove that what I did was not exclusive to music, that my process was storytelling through the imagination of the artist I was studying."
Artists bring Autumn into their worlds and trust her to document their creative lives. She in turn immerses herself in the lives of her subjects.
Autumn toured Canada with The White Stripes in 2007 and published Under Great White Northern Lights, a collection of photographs from the tour. She is currently working on a book about Beck, who she has photographed off and on since the 90's. Her most recent book, Death Cab for Cutie, covers seven years in the life of the band.
"My favourite subjects are the long term ones," said Autumn. "I come and go from their lives to document or do portraits. Sometimes it's creating an imaginary world to represent a record. Or, you know, I work with Rodarte to create an imaginary world to represent that season's designs."
Search the Internet and you will find Autumn's portraits of Shirley Manson, John Doe, Elliot Smith, Karen O, Fiona Apple, Michael Gondry, Wilie Nelson, Kate and Laura Mulleavy and many others.
"I collaborate with artists, I bring their ideas to life, add my ideas in, whatever is needed to make sure the artist's work is remembered properly," said Autumn.

Photographers garner a lot of information about their subjects when they are shooting. Photography, afterall, is part hunt, part seduction.
In the afterword to Death Cab, Autumn describes her creative strategy in a passage that evokes the mood of vulnerability that photography can produce.
"I imagine myself walking in a circle. The subject is in the center, and we don't really know each other. I take a picture. They notice for a second, and then continue on with what they are doing. I continue circling and shooting. With each circle, we know each other a little better, and I get closer.
Finally, I am shooting hands, fingers, a shoe, an eye, a mouth, the creases in their clothes. After awhile, I don't notice when I take a picture, and they don't notice either."
Knowledge breeds power and photographers learn a lot about their subjects when the camera is transparent. Autumn maintains a balance of power with her subjects by exchanging roles.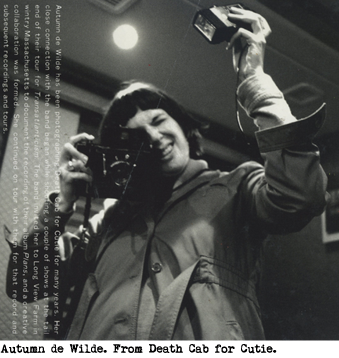 "Sometimes I'm following and sometimes I'm directing," said Autumn. "I like going back and forth with that. We change roles."
"Sometimes I really am just using my invisibility cloak to the best of my ability so that they forget I'm there and sometimes they tell me what they want me to shoot and sometimes I tell them what I want to shoot."
"It's just knowing who should be in charge at any given time and when no one should be in charge. We fill in the spaces that need to be filled, but don't overfill them. I'm not always telling someone which direction to look, but I sometimes am."
Los Angeles wardrobe stylist and costume designer Shirley Kurtara has worked with Autumn on advertising campaigns and editorial shoots.
"Autumn has a natural ability to connect with people," said Kurtara. "She knows how to make subjects at ease in front of a camera. Autumn really makes an effort to have the person's natural self come out, so the photograph is a reflection of who they really are."
Autumn's portraits have a spontaneous quality and her style evolves from subject to subject.
"I don't walk in with a set of ideas, like I always shoot people this way," said Autumn. "Sometimes it's an idea they had and sometimes it's my idea, I want it to be confusing, like, who thought of this."
"It's really important that artists trust that I am listening and not just taking something away from the room. Sometimes I'm documenting the blood, sweat and tears."

Autumn grew up in Los Angeles and credits the city as a source of her creativity.
"LA is my original inspiration," said Autumn "When you vere off the major veins in Los Angeles you find these strange worlds. Parts of LA look like Tijauana, parts of it look like Rome. Much of the city is rotting sets built by set designers and not meant to last. The crumbling altars of Hollywood are fascinating to me."
"Los Angeles is gonna always change. We're never gonna be able to count on anything staying the same here. It's so frustrating and so beautiful. Depending on the frame you are looking through, LA can become anything, which is what is amazing about it, but it's also why people can feel really lost when they move here."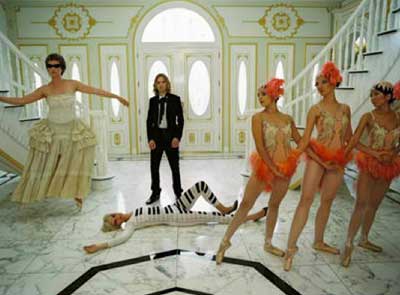 Like LA, Autumn's photographic style is always changing.
"I love experimenting with color either by taking it away and making it really monochromatic or overdoing it," said Autumn.
Her photographs often have a surreal, dreamlike quality. Beck standing with ballerinas in a mansion with a woman dressed as a piano lying on the floor. Shirley Manson wearing a red dress in a swimming pool on sunny day. A bearded man in a dress, holding a parasol and a dog, strolling through the background of a portrait of musician M.Ward.
"There's definitely a cinematic approach to her photography," said Shirely Kurata. "It could be whimsical and fantasy-like, it could be a raw documentary style, it could be shot in different ways but it has the magic and creativity you see in films."
"Sometimes I'm hunting down a moment that I have experienced with a person and recreating it with lighting," said Autumn. "I'm inspired by a personal moment I've had with someone and then I'm creating a fantasy world to renact that feeling, which doesn't mean I renact that moment. I spend a lot of time observing."

Autumn belongs to a tradition in American photography that puts the relationship between the photographer and subject at the forefront of the creative experience.
In the 60's Robert Frank, the great Swiss-American photographer, mentored Autumn's father, Jerry de Wilde, telling him to to "shoot your people." Jerry produced an important body of work that includes photographs of Jimi Hendix and Coretta Scott King.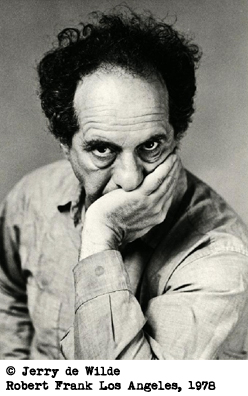 Frank also mentored Allen Ginsberg, who photographed his friends over a 40 year period. Ginsberg wrote descriptive captions below his photographs and considered his subjects to be "sacred."
Diane Arbus photographed people with unusal physical characterisics and lifestyles. She uncharitably referred to her subjects as "freaks" but returned to them again and again with her camera.
Nan Goldin and Larry Clark have also produced impressive bodies of photographic work by immersing themselves in the lives of their subjects.
In the work of these photographers the relationship between the photographer and the subject is present in the compositon. The photographs have the potential to raise interesting and disturbing questions about what we are viewing and why we look.
"I never assume I have someone's complete trust," said Autumn. "I really value it everytime I feel like I have achieved it. I never take it for granted because I'm very stressed out when someone takes my photo so I always remember that no matter how successful an artist is, it is a very fragile moment when they are having their photo taken. I'm very much a touchy-feely photographer."

In the summer of 2007 Autumn joined The White Stripes on their cross-country tour of small Canadian towns and cities.
She immersed herself in the day to day life of the tour and photographed performances, audiences, rehersals and backstage scenes. She also photographed airports, highways, bowling alleys, and graveyards.
In the preface to The White Stripes: Under Great White Northern Lights, Autumn describes the city of Iqaluit on Baffin Island:
"One school, one hotel, a hockey rink, a playground, and a graveyard."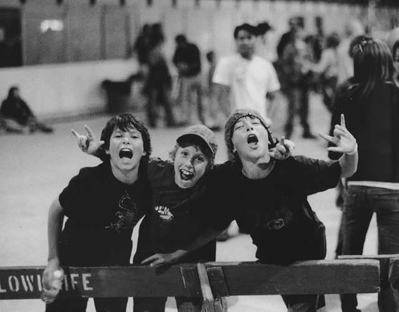 In the book we see the local kids playing in the playground, The White Stripes performing in the hockey rink, and Jack and Meg strolling through the graveyard.
At the Savoy in Glace Bay, Nova Scotia, Autumn photographed Jack and Meg waltzing at the end of the show, to the wild applause of the crowd.
"I had to run to the center of the stage during the encore," said Autumn. "I didn't want to disturb the moment. Knowing it was the tenth anniversary show and seeing how the audience had been reacting at the end of the shows when they were taking their bows. I knew it would be special."
"I'd like to spend more time in Nova Scotia," said Autumn, "It's so lush in the summer. The bluish green."
Mixed in with the photographs of the artists are candid images of fans.
In a photograph, taken at the rink in Yellowknife where The White Stripes performed, three boys give it up for the camera.
In Death Cab we see ecstatic fans – unaware that they are being photographed – rock out as the musicians perform on stage.
"I'm fascinated with crowd dynamics," said Autumn. "At a baseball game if the whole stadium does something all at once it makes me cry."
A photograph taken on Death Cab's 2003 Transatlanticism tour shows a fan screaming ecstatically, oblivious to those around him.
"I like seeing the difference between the type of fan that studies and the type of fan who is in ecstasy," said Autumn.
These memorable photographs not only document the rock concert experience, they also record how technology has changed the way people experience live music events.
A fan on Death Cab's Narrow Stairs tour in 2008 holds her cell phone above her head so a friend can hear the band play.
"She's so sweet," said Autumn. "She's in the front row. Her friend on the phone can also hear the music. Now everyone is filming the event instead of watching. Technology has changed the audience. Now I just look at a sea of iPhones. It's kind of a drag, honestly."

Autumn's photography is characterized by diversity and innovation. Her photographs could easily be mistaken as the work of several photographers.
"Sometimes things are planned ahead that involve interesting backdrops and sets, other times it comes spontaneously from being on location, but it always calls for something interesting and creative," said Shirley Kurata.
A definitive collection of Autumn's photography has yet to appear. A retrospective show at a major museum or gallery would put the significance of her work in perspective.
"Everyone wants to look good but the really great artists want the story," said Autumn. "The story is more important than their vanity."

All photographs courtesy of Autumn de Wilde.

Visit Autumn de Wilde's website.
Check out Autumn's Tumblr site.
Visit Jerry de Wilde's website.
Check out Autumn de Wilde and Jerry de Wilde: Two Generations of Counterculture Photography.
Visit Shirley Kurata's website.
See highlights from Beat Memories: The Photographs of Allen Ginsberg shown at the National Gallery of Art from  May 2 to September 16, 2010.
Read Robert Frank's Masterpiece: The Americans at 50, published on Transmopolis in September, 2009.
Flip through The Photography of Diane Arbus.
Check out highlights from Larry Clark's Kiss the Past Hello which was in Paris at the Musée d'Art Moderne from 8 October 2010 until 2 January 2011.