Fashion's Night Out: Marc Blaskovits Brands LA
by Michael Jack Lawlor
|
31 August 2010
|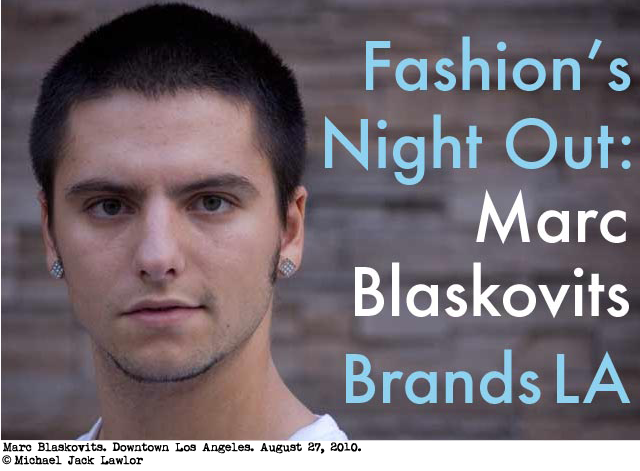 Fashion's Night Out is a wave of global fashion shows, in-store events and post-shopping parties that take place on September 10 to support the fashion industry and encourage consumer spending.
New York is the shopping epicenter of Fashion's Night Out, drawing cities as diverse as London, Milan, Mumbai, Beijing and Tokyo into the fun.
For the first time, Los Angeles is in the mix. Fashion is an important industry in LA and Mayor Villaraigosa is promoting the City as an emerging fashion center. The Mayor's office is working with the fashion community to organize events all over town.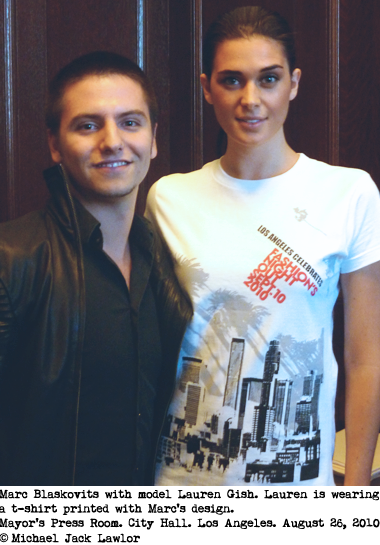 Marc Blaskovits, a student at the Fashion Institute of Design and Merchandising, has shaped the Los Angeles branding campaign with a rhythmic design that blends LA's downtown skyline with its iconic palm trees. His design appears on the official t-shirt for the LA event and has been incorporated into the layout of the City's FNO website.
"The design is the result of what I love about Los Angeles," said Blaskovits. "LA is famous for the palm tree and the beach and there is an amazing skyline downtown. I wanted to make a combination of all those elements. The road lined with palm trees is for me, coming from another country, the idea of the American Dream."
Blaskovits, originally from Luxembourg, studied fashion design at the Ecole de Condé in Nancy, France before moving to Los Angeles to study graphic design at FIDM.
"I really love illustration. I want to be a graphic designer for major fashion brands," he said.
Blaskovits speaks five languages: French, German, Italian, English and Luxembourgish.
"I'm a European in love with Los Angeles," he said. "I am a big fan of horror movie. In horror movie you have a lot of texture. Even in the poster. There is always a lot texture. You always wonder how did those designers create this."
Blaskovits graduates from FIDM in September and he is looking forward to starting his design career in Los Angeles.
"You feel like there is a chance for everybody. Everything's possible as long as you work," he said.
Blaskovits will be on the red carpet and on stage at the Beverly Center on September 10.
"I can't wait to see what the other designers did for the fashion shows at the Beverly Center," said Blaskovits. "It's supposed to be really good. It's going to be one of the biggest catwalk ever made."

Fashion generates a lot of money in Los Angeles. Fashion District businesses collect over $103 million in revenue from buyers who place orders during Market Weeks. Plus, buyers and exhibitors drop $50 million annually on hotels, restaurants, and transportation.
Mayor Villaraigosa is scheduled to appear at the Beverly Center for the Fashion's Night Out opening event at 5PM on September 10.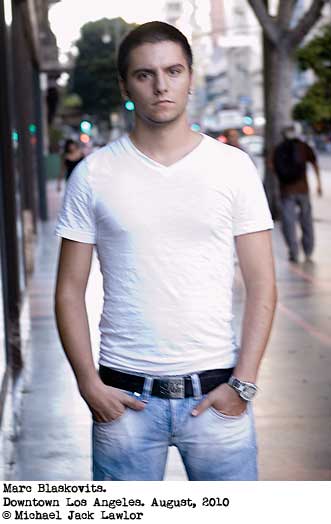 "Fashion's Night Out will showcase Los Angeles' emerging fashion industry that is a crucial economic engine for our city generating $5.7 billion in sales every year. The event will also showcase the creative talent – behind the 5000 fashion lines located here – who are constantly inventing fresh new ways to express the diversity and culture of our great city through their designs," said Mayor Villaraigosa, in a statement prepared for the press.
The Mayor's office of Economic and Business Policy is encouraging people to shop on Fashion's Night Out because a portion of the 9.75% sales tax flows into the City's distressed General Fund.
Ten percent of the General Fund is derived from sales taxes and makes up about $292 million of the General Fund Budget.
"For every ten dollars paid in sales tax one dollar goes to the General Fund," said LA Commissioner Cynthia Ruiz.
Los Angeles desperately needs people to start shopping because the City is faced with a 320 million dollar budget deficit.
Shopping may be a good deal for the City but sales taxes can be tricky business for consumers. The percentage of a workers income consumed by sales taxes actually goes up as paychecks go down. Financial experts view sales taxes as regressive, which means that the effective tax rate of someone making $50,000 a year is greater than someone pulling in a few million.
At 9.75%, the sales tax rate in Los Angeles is the highest in the United States.


There's lots of stuff happening all over town. Here's a list of neighborhoods to keep an eye on, as well as a few quick tips.
Beverly Center at La Cienega and San Vincente

The Beverly Center is hosting a fashion show at 5:30 PM on the 6th floor in the center stage area of the mall. To accommodate everyone, the show will repeat at 7:30.
Macy's at the Beverly Center is producing a Denim Rocks fashion show at 6:30.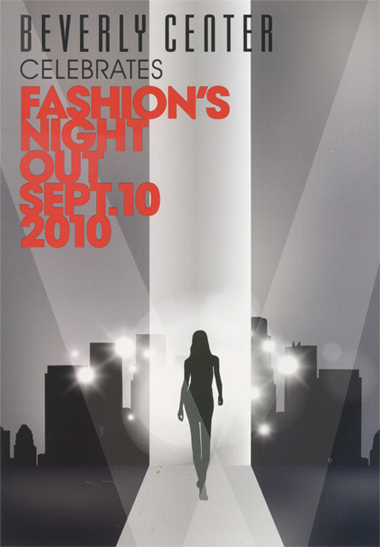 Melrose Avenue Between Fairfax & La Cienega
The Alexander McQueen store on Melrose is giving away special FNO bracelets.
There will be photo ops in front of  a leopard print background at Betsy Johnson.
If you spend $300 at Jon Varvatos, fashion photographer Robert Knight will take your picture.
Robertson Blvd Between 3rd St & Alden Dr

Stylists will be on hand at Diavolina and Gap's 1969 Jeans Shop.
Madison 3rd will have a DJ and complimentary bar.
West Third Street Between Fairfax & La Cienaga

Magnolia Bakery will be offering special cupcakes decorated with the FNO theme colors. The bakery will donate 50 cents from every cupcake sold to a California Fashion Institute scholarship fund for FIDM students.
There will be a casual fashion show at Milk. The most fashionably dressed person in attendance will receive $250 in "milk money."
Abbot Kinney Drive in Venice
Edna King is serving margaritas all night long.
You can cash unwanted gold jewelry in at Heist. Drinks will be served.
Los Feliz Village South of Los Feliz, North of Sunset, East of Vermont, West of Hillhurst
Various designers are having trunk shows at Confederacy on Hollywood Blvd. Cocktails. DJ.
Downtown at the Cooper Design Building
There will be a vintage fashion show at the Cooper Design Space on Los Angeles St.
Cynthia Rowley's mobile fashion truck will be parked nearby.
Post Retail Fashion Celebrations (After Party)

$25 in receipts from Fashion's Night Out stores will get you through the door at Industry on La Cienega at Melrose. LA designers will show their work throughout the evening.
Same deal at XIV on Sunset at Crescent Heights.
For complete listings and maps, visit Fashion's Night Out Los Angeles.