French Director Claude Miller Honoured in Hollywood
by Michael Jack Lawlor
|
4 May 2010
|








This SlideShowPro photo gallery requires the Flash Player plugin and a web browser with JavaScript enabled.
French Director Claude Miller was honoured during the 14th annual City of Lights City of Angels (COL COA) film festival at the Director's Guild in Hollywood on Thursday April 22, 2010.
"Adults wage war on children," said Miller, whose remarks were translated by Katherine Vallin, after a screening of La Petite voleuse (The Little Thief). "How can a child defend himself against a dangerous or toxic parent? The child discovers that his only weapon or defence is imagination and it is through imagination that he protects himself."
Miller has explored childhood and adolescence throughout his long career. "Experiences in youth are formative and profound," he said. "Very often my characters are young. I am fascinated by how children deal with adults. Adults are very, very difficult people."
In the The Little Thief, Janine Castang has been abandoned by her mother and steals compulsively in defiance of the depressing town where she lives. Janine uses violence, theft and sexuality to forge an identity in a world of emotionally calcified adults.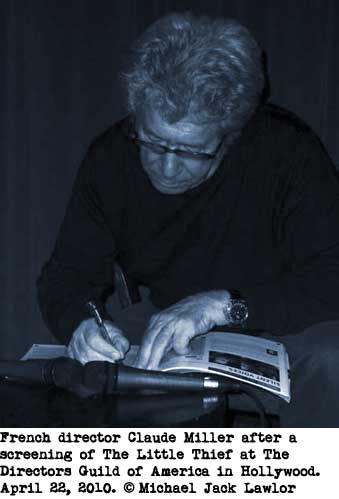 After she is caught stealing from the church, Janine is banished from the community and sent to a reform school where children's faces are marked by anxiety.
Janine establishes her personality at the reformatory through an act of violence. Cinematographer Dominique Chapuis rendered this transitional scene using a plaette of soft greys and pear greens. As Janine reaps the psychological and sexual rewards of her transgressions cool greys are replaced by warm earth tones.
Janine progresses from petty theft to stealing affection from girls in the reformatory. Education evolves out of erotic love as a girlfriend teaches her the principles of photography and how to manipulate darkness and light. We watch Janine progress from thief to artist using the only resource she has: her imagination.
Miller explained that Igmar Bergman and Alfred Hitchcock had a profound influence on his filmaking style.
"Bergman was doing scary films but not thrillers," he said. "He was a great director of anxiety and fear."
Miller told the audieince that the British painter Francis Bacon, the Polish writer Witold Gombrowicz and the French surrealist philosopher George Baitalle have also influenced his work.
In Je suis huereux que ma mere soit vivante (I Am Glad My Mother is Alive) Thomas is broken emotionally and psychologically when his mother abandons him in childhood. The film follows the traumatized child into adolescence and a boarding school where he is broken again.
Thomas reunites with his mother in adulthood and finds himself drowning in the waters where sons and lovers swim. When a video appears on television showing Mississippi blues musician R.L. Burnside playing Bad Luck City the young man asks his mother to dance. When Thomas is broken a third time the consequences are tragic.
Miller mentioned that Juex Interdits (Forbidden Games), a film by director René Clément, had a powerful impact on him when he was young. Forbidden Games is a portrait of girl traumatized by the death of her family during World War II.
Tet du Turk
Director Pascal Elbe spoke to the audience after the American premiere of Tet du Turk (Turk's Head), a complex film that looks at issues related to crime and immigration in a housing project on the outskirts of a French city. In French, the term for "outskirt" or "suburb" is banlieues.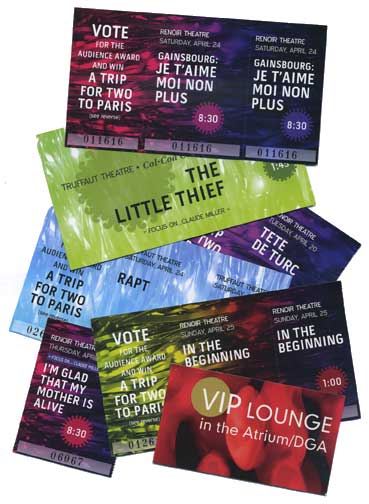 Banlieues films have emerged as an identifiable genre in French cinema. Mathieu Kassovitz's independently produced La Haine is considered a classic. Luc Bresson's District B13 and District 13: Ultimatum movies represent the commercialization of the genre.
In conversation Elbe distanced himself from Bresson and told the audience that his influences are primarily American, especially the films of Martin Scorcese. Elbe explained that the Academy Award winning film Crash inspired him to weave multiple narratives together in a film dealing with contemporary issues.
Cinematographer Jean-Francois Heggin references the cinematography of urban American films like The Departed, Crash, and Heat. Although the style of the film is familiar, the cinematography does not feel like a parody.
Immigration is presented as a serious issue in the film, as families struggle to survive on temporary visas in dangerous neighborhoods deprived of social services because doctors, police and other professionals are afraid of being attacked, were they to enter.
Other Films

A l'origine (In the Beginning), starring Francois Cluzet, is a film about a con artist who impersonates an executive from a construction company by forging corporate symbols and stationary. Phillipe, the protagonist, is an anti-designer who understands the tremendous amount of energy and resources that can be harnessed when people believe in an idea suggested by a logo.
Fais-moi plaisir! (Please, Please Me!) is a romantic comedy starring Emmanuel Mouret and Judith Godreche. The characters  comically deploy psychoanalytic theory as they parry with one another in the game of love.
Gainsbourg: Je T'aime Moi Mon Plus is a challenging mix of animation, cinematography and music that interprets the life of Serge Gainsbourg.
The festival ran from April 19-25, 2010.


Visit the City of Light City of Angels (COL COA) – A Week of French Film Premieres website.
Read more about Claude Miller.
Watch Charlotte Gainsbourg and Claude Miller on French TV in 1985.
Read about banlieue cinema on the Migrant and Diasporic Cinema in Contemporary Europe website.
Check out Reframing Difference: Beur and Banlieue Filmmaking in France by Carrie Tarr.
Listen to Bad Luck City by R. L. Burnside.