La Casita Mexicana: The Magic of Mexican Cooking
by Michael Jack Lawlor
|
20 October 2009
|








Chefs Jaime Martin Del Campo and Ramiro Arvizu create menus for La Casita Mexicana that draw on the culinary tradition of Jalisco, their home state.
Mole, a Mexican sauce, is at the heart of the La Casita Mexicana experience. Jamie and Ramiro, following recipes passed down by their grandmothers, prepare at least three types of mole involving dozens of herbs and spices.
Baskets of corn chips covered in warm mole appear on every table at La Casita Mexicana. The moles – tinted red from chile peppers, white from chocolate and green from pumpkin seeds – suggest the colors of the Mexican flag and give guests a taste of the complexities and pleasures of Mexican cuisine.
The chefs are passionate about sharing the flavours of Mexico with others. Jaime and Ramiro frequently travel in Mexico searching for new recipes and ingredients. They regularly demonstrate cooking techniques on Spanish television and appear at festivals all over Los Angeles throughout the year.
As a result, La Casita Mexicana has developed a reputation as the soul of Mexican cooking in LA.
"Mexican cooking is magical. It is a ritual. You have to respect the ingredients. You have to know how to use them, how to treat them, how to combine them. The magic is in the combinations," said Ramiro.
Jaime and Ramiro, like their grandmothers before them, believe that flavour is influenced by the mood and sensibility of the chef, as well as by the ingredients used.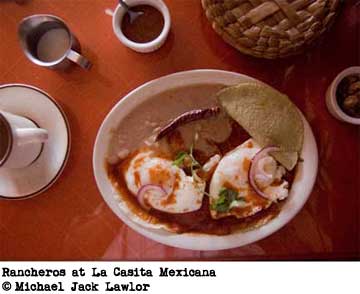 "When you cook you have to be in a good mood, " said Jaime.
Tradition warns against the dangers of the evil eye – el mal de ojo – at harvest time and in the kitchen.
"Grandmother would not let anyone touch her corn," said Ramiro. "If someone looked at her when she was making the tamales she would say that the tamales were not going to cook right and she would make that person touch her."
Jaime and Ramiro inherited molcajetes from their grandmothers. They often use the molcajetes during cooking workshops they host throughout the year.
The molcajete, a mortar and pestle tool carved out of volcanic rock, is used to grind spices, herbs, and corn. The porous texture of the basalt stone becomes seasoned after years of grinding and produces unpredictable flavours. The personality of the molcajete changes over time.
Jaime and Ramiro encourage people to keep ancestral traditions alive and use the molecajete at home.
La Casita Mexicana is a comfortable space characterized by warm orange and brown earth tones. The walls are decorated with blue fleur de lis that invoke Mexico's colonial past and symbolize the influence of Spanish gastronomy on Mexican tradition.
An image of Our Lady of Guadalupe, in a heavy wooden frame, hangs on the wall, along with dozens of rave reviews from newspapers and magazines.
The chefs publish special menus at Christmas and Easter, which makes La Casita Mexicana a popular destination for families during holiday seasons.
Located in the south LA suburb of Bell, La Casita Mexicana attracts people from all over Los Angeles.
"We are very lucky," said Jaime.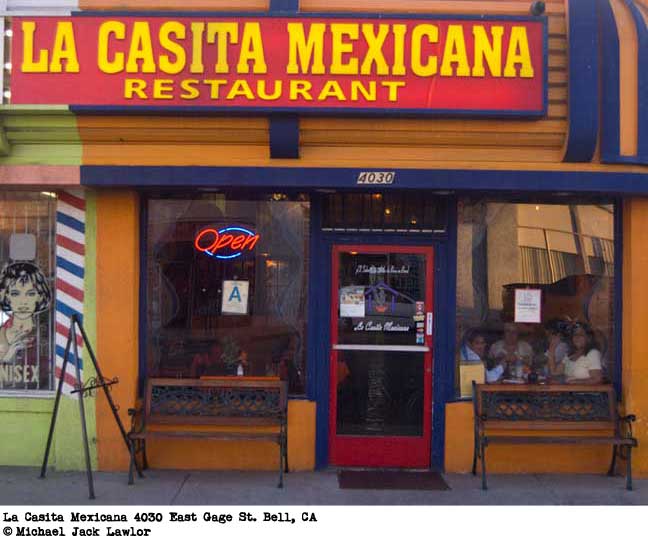 La Casita Mexicana
4030 East Gage Ave
Bell, CA 90201
(323) 773-1898
Monday – Sunday
9:00 a.m. – 10:00 p.m.
Street parking. No alcohol.