Robert Frank's Masterpiece: "The Americans" at 50
by Michael Jack Lawlor
|
29 September 2009
|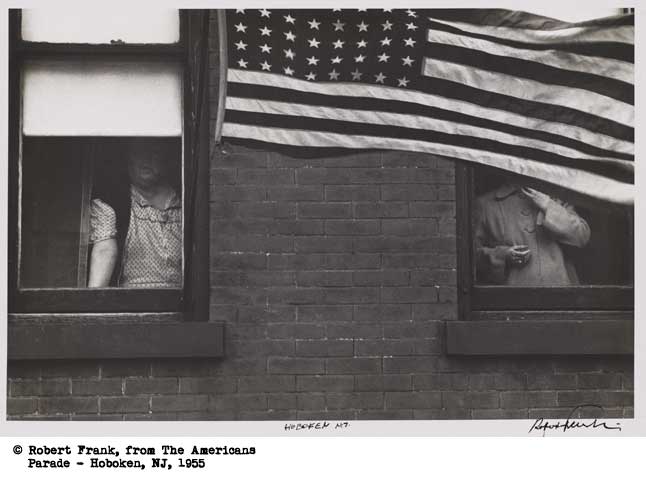 The Americans, a collection of black and white photographs by Robert Frank, changed the history of photography when it was published in the United States in January, 1959.
In book reviews, the corporate media expressed outrage, but on the street, where many of the photographs where taken, people rejoiced. Popular Photography magazine characterized the book as "sick". Jack Kerouac called it "holy".
This fall the Metropolitan Museum of Art in New York is honoring Robert Frank and his work with a 50th anniversary retrospective. The Americans will be on display at the Met until January, 2010.
Frank grew up in Switzerland during the second World War and he moved to New York in 1947 when he was 23. "I think he came to America looking for a new direction," said Los Angeles photographer Jerry de Wilde.
Working for magazines such as Harper's Bazaar, Vogue, and Fortune in the late 40's and early 50's, Frank mastered the technical aspects of photography.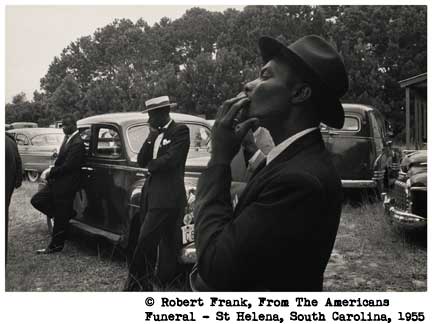 He created the The Americans during a road trip across the United States in 1956 and 1957. While driving he developed a passion for the music of Hank Williams that he heard on the car radio.
"I was sympathetic to a minority. Being Jewish I knew what it was being a minority so my sympathies were with the people who were that," he said during an appearance at the National Gallery of Art in Washington earlier this year.
Frank was arrested twice while traveling in southern states. The combination of his European accent and a camera made police suspect that he was a Communist or spy. Many of his subjects did not know they were being photographed. Frank strove to be invisible when he worked.
Young people were particularly energized by Frank's images which cracked open a new way of representing America. "There is a certain raw honesty in Frank's work that appeals to young people. The images affect your whole body," said de Wilde.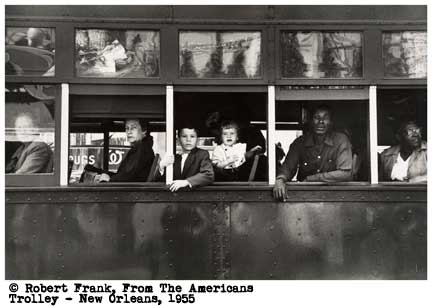 Frank put himself in dangerous situations and documented people and places not usually portrayed in published photographs at the time. America is symbolized in his work by jukeboxes, graves, urinals, crosses, tenements, trolleys, bars, cafeterias and department stores.
Many of Frank's images convey an unsettling feeling of emptiness and menace that is transcended by the quiet dignity of his unsuspecting subjects.
Frank's compositional style marked a radical departure from what Americans had come to expect in photography. Subjects are often out of focus, picture planes are unbalanced, and exposures are inflected by noise and grain.
"The photographs in The Americans are very hypnotic," said Michael Rouse, a filmmaker in Vancouver, British Columbia. "He violated all the rules and created some really uncomfortable images. He did something completely different. I don't think its been repeated."
Frank shot from the hip and worked intuitively. With his 35mm Leica, he exposed themes of power, racism, inequality, and alienation. "He is always looking out to find the truth and the truth is always changing, just as the world is," said de Wilde.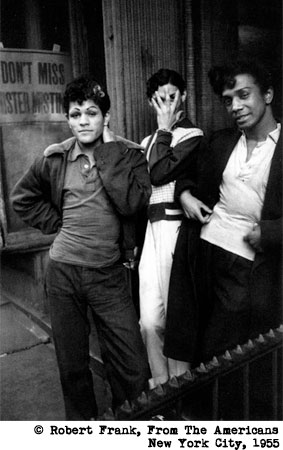 Frank's photograph of three young men in New York City stands out in The Americans as a rare moment when the photographer interacts with his subjects. In an interview with Sarah Coleman, Frank described the image as one of the happiest photographs in the book. "There's something to be learned from that," he said.
In 1978 in Los Angeles, Jerry de Wilde created a remarkable portrait of Frank. In the picture, Frank rests his chin on his hand and looks directly at the camera.
"That picture captures the essence of what I have always felt," said de Wilde. "Keep your eyes open and your mouth shut. Shoot some pictures. Be invisible as Robert says. When you see something that interests you follow it. See what happens. Don't jump into it. Let it evolve."
Robert Frank offered direction as de Wilde's interest in photography grew.
"I went up to him in New York and asked him to look at my pictures. What he said opened up a whole new world for me. He said they are pretty pictures but what are they about? What are they trying to say? Then it hit me. Photography is a vehicle for personal expression. Not just snapping pretty pictures. Robert said, 'You should go out and shoot your people'. So that's what I did."
de Wilde went on to produce a body of work in the 1960's that includes many important photographs, including a famous image of Jimi Hendrix setting his guitar on fire at the Monterey Pop Festival in 1967 and Coretta Scott King protesting the Vietnam War in Washington in 1969.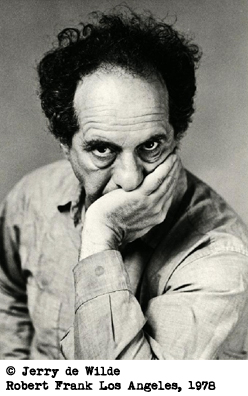 Frank's influence on American photography has been profound. Several generations of photographers have followed de Wilde and walked through the cultural door that Frank kicked open. Allen Ginsberg, also mentored in photography by Robert Frank, spent a lifetime taking black and white photographs of his friends. The photography of Nan Goldin, Joel Meyerowitz, and Larry Clark is inspired by Frank's fusion of photojournalism and street photography.
Jerry de Wilde shared Frank's advice about photographing your generation with his daughter Autumn de Wilde, who is well known for her photographs of alternative rock artists like Beck, The White Stripes, Elliott Smith and Death Cab For Cutie to name a few.
"I think my daughter picked up the same thing. The ability to see something that interests you and then follow it. She started taking pictures of her friends. It is amazing what she is doing now. She brings a freshness each time to a job. Her work with the White Stripes is very casual. Like Robert she is not afraid of taking chances and making mistakes in order to get something good," said de Wilde.
"There are certain things that are timeless. And that body of work of Robert's is timeless. People will be able to identify with The Americans for centuries," said de Wilde.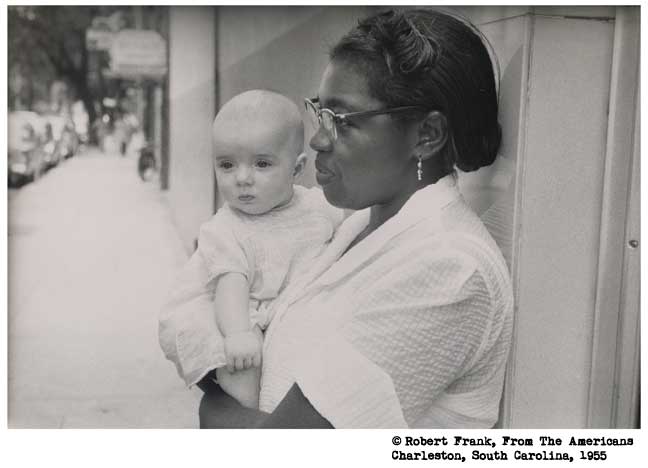 Watch the Transmopolis interview with Jerry de Wilde.